Apply for Auto Financing with our Secure and Confidential Application! - make lenders compete for your business.
The structures and financial solutions that have developed for auto financing are based on a few contextual characteristics:
The amount approved depends on borrower's income. There are auto loans that work only with collateral, so if you have potential collateral and you want to involve it in the process, you will probably be able to do so. Sometimes the car itself is treated as collateral.
Interest rates associated to this loan often vary according to your financial situation and other factors. The differences in the degree of variation are high and they may have a significant impact on the total costs of the loan. As a result, it is preferable to ask our opinion at www.unitedfinances.com to find the most suitable offer for you among all the offers present on the market.
An auto financing application can be approved within minutes provided that you've followed the correct set of steps. Auto loans are common enough as to be standardized for most of the potential situations you may be in. Basically, there's one single rule you need to keep in mind at this point: make a list with all the documentation you need at the beginning; this way, you'll drastically speed up the process. In most cases, a valid ID card; proof of income; bank account number; and other similar papers are required.
Checking your credit history is a standard procedure for auto financing. More often than not, this doesn't affect the decision of the lender whether to grant you the loan or not, but it may influence the APR.
The repayment period may vary a lot in accordance with your deal with the bank. In general, auto loans get repaid in one to five years from the moment the contract is signed; keep in mind that there are exceptions to this rule.
Extensions are possible, but you need to check their availability before signing the contract to determine if you like the terms and conditions.
Most borrowers ask us why credit check is necessary in the case of auto loans. The reasons are not that complex:
By verifying the credit history, lenders may get an idea regarding your current financial situation and past financial behavior. Here's what they check to get to this information:

If past payments were made on time – this is a good indicator for your credibility and reliability as a borrower;
If the borrower has filed for bankruptcy – this determines the financial behavior of the company in the possession of the borrower and it's not critically important if you want to take a loan on personal grounds;
If the borrower has had past credit extensions – they use this to adjust their offers and to further understand borrower's behavior;
What were the previous credit limits approved – this helps lenders better comprehend your financial power.

Credit check is required in order to determine the interest rate approved for the loan. There are certain regulations lenders generally abide by, so this is actually quite a basic procedure. As a general rule, the higher the credit score, the lower the interest rate you'll get.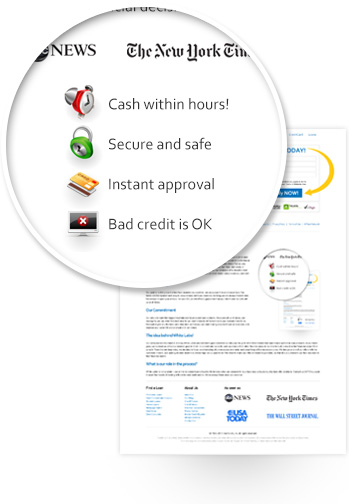 © 2013 UnitedFinances.com, Inc. All rights reserved.
UnitedFinances.com is a free comparison service empowering consumers to make better financial decisions. Our services are completely free of charge to our customers. However, this site may be compensated when a user clicks an "apply" or "apply now" button, or other links on the website.