Apply for Auto Loans for Bad Credit with our Secure and Confidential Application!
In the last years, the number of offers in the auto loans sector has become so high that you don't need to worry about your credit history anymore. It is true that some loans given by lenders to help you buy a car require credit checking, but the rules and contexts are both fairly flexible and attractive to users at the same time. Irrespective of your situation, you will get access to auto loans for bad credit if you search the market right. Alternatively, you can also contact a third-party company to do it for you. At www.unitedfinances.com, we take pride in offering the most beneficial offers to our customers, so contact us to get an offer.
Here's a quick list of the places you can get information from when dealing with auto loans for bad credit:
Online lenders' websites – they provide insight into the matter, but each and every one's perspective is implicitly limited by the offers one has.
Printed guides – they can be of real help, provided that they are not used solely as a marketing strategy to attract you in one direction or another.
Financial advisors – they are the most impartial of all: they provide solid and reliable advice.
Bank representatives – again, similar to printed guides, they can offer real insight as long as they're not biased.
Auto dealers – it is in their own interest to find a good deal for you, so you should listen to them carefully and then do what you think is best for you.
Apart from the institutions or individuals you can access to get more information, you can also try using a few financial tools (most of them available online free of charge) that have been developed on the market to help you better understand and act in this scenario:
Financing calculators – they offer real value if you know how to use them right. To be able to calculate the payments, you need to provide: interest rate, credit score, amount of money to be borrowed, and period of time to return the money.
Credit reports – you can check your credit reports for free which can help you estimate the interest rate you will get.
Video guides – some video guides come with examples or formulas that can make financial calculations easier for you.
Online third-party websites – they give insight into the best offers on the market at a certain moment in time and, in addition, they have online tools to help you calculate APR.
Auto insurance guides – they provide a limited analysis of the general credit score and its impact on auto loans.
Wherever you want to purchase the car – auto dealers, auto traders, online resources can all be used to determine the values of auto loans for bad credit.
For auto loans, specialized advice is recommended. Apart from the advantage of being able to properly calculate rates, financial experts can explain the major difference between applying for a loan intended to buy a new car and a loan for a used car. You may find that the differences in the APR are so relevant that you may reconsider your initial perspective. But, even if you stick to the first solution, financial advisors can shed light on the matter for you so that you can get the car you want at exceptional rates.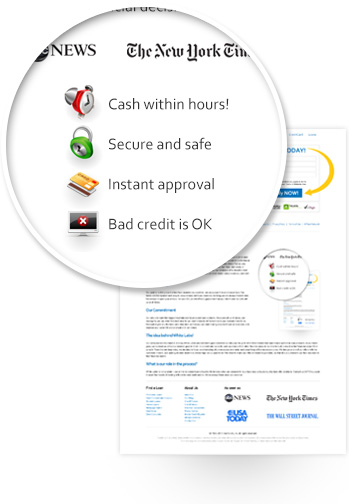 © 2013 UnitedFinances.com, Inc. All rights reserved.
UnitedFinances.com is a free comparison service empowering consumers to make better financial decisions. Our services are completely free of charge to our customers. However, this site may be compensated when a user clicks an "apply" or "apply now" button, or other links on the website.