Apply for Unsecured Loans Online with our Secure and Confidential Application!
It's a common misconception that with the current economic crisis, major banks are now only lending what is termed secured loans i.e. loans that require some form of collateral, (such as your home) to secure them. This isn't true though because major banks do still offer unsecured loans as well – they just don't approve as many as they used to.
Unsecured loans are exactly what they say they are – unsecured – which means the lender has nothing but your word that you will pay back the money borrowed. For this reason, major banks require things like:
A full credit history report for you that shows a perfect FICO score and repayment history. Even a few late payments from years ago will count against you.

Details of all your current financial commitments including payments you make on any other loans you have, your rent/mortgage payments, your utility bills and even a breakdown of shopping expenses.
Why do banks require this information?
Simply put, unsecured loans from banks only ever get approval if you can show you have enough money left at the end of the month to easily cover the minimum payment.
So for example: let's imagine you need an unsecured loan of $5000 and because you have your loan over two years the monthly repayment works out to be around $250. Unsecured loans taken through a bank would only be approved if you could show you have more like $500 spare each month – which you very probably don't have.
The alternative
Thankfully banks aren't the only lenders who offer unsecured loans. Here at www.unitedfinances.com we work with a large panel of Internet lenders willing to approve loans of all sizes.
And what's more:
You don't have to have a perfect credit history or score to gain approval. In fact you don't even need to have good credit.

You don't have to justify why you require a loan or explain in detail what you spend your current wage on.

You don't need to spend days collecting paperwork and faxing it to different departments.

As long as you can afford the loan payment each month you will be approved.
Unsecured online loans available from our lenders can be used to cover anything you need them to cover. Auto repair bills, holiday deposits, late payments on utility bills – it doesn't matter as long as you can prove you have a steady income sufficient enough to repay the loan. The application process is quick and easy and approval is virtually guaranteed within hours, making our unsecured loans the best solution to your immediate financial problems.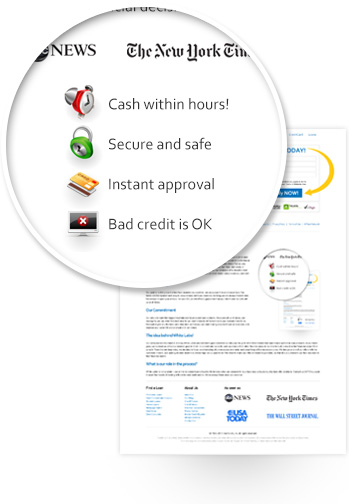 © 2013 UnitedFinances.com, Inc. All rights reserved.
UnitedFinances.com is a free comparison service empowering consumers to make better financial decisions. Our services are completely free of charge to our customers. However, this site may be compensated when a user clicks an "apply" or "apply now" button, or other links on the website.