Apply for Emergency Loans with our Secure and Confidential Application!
These types of loans are typical of people who come to experience situations in which they need access to extra funds to face their unexpected expenses. Unlike the general belief, the need for these loans is not directly related to income level. Such situations can be generated by a number of factors, and while some occur very rarely, others are quite common. All together, emergencies can be summed up in the following scheme:
Medical emergencies – Consumers experiencing such problems will have to pay medical bills larger than usual and they often need to apply for emergency loans in order to make the required payments. Additional expenses are always experienced and they only enhance the need for more financial funds.
House-related issues – Often, an appliance may need replacement right away or the house itself may need repairs. For such expenses, emergency loans fit best as they are conceived as to serve customers in similar situations and to accommodate those in need fast. This category covers most of the cases when people choose to apply for an emergency loan.
Emergency car repair – Consumers may need to get extra funds to be able to deal with unexpected extra expense. On such grounds. personal loans are a very good solution, either in the form of an emergency loan, or as a regular, long-term loan.
Calamities – Although most of the people choose separate insurance policies in the case of calamities, there are still potential clients who try to get an emergency loan to cover these unexpected expenses.
All Emergency Loans for Bad Credit come with a few basic characteristics:
They feature high interest rates because borrowers need their money right away. This type of application doesn't allow financial businesses enough time to prepare and properly analyze all the information required to release the loan at a more convenient APR. This way financial institutions lending the money protect themselves against any negative aspects they may have overseen.
These personal loans are released soon after the borrower submits their application form. The lender releases the money as soon as possible because the borrower requires an immediate answer. The funds are often available on the same day, and the borrower is free to use them as he or she pleases. Time is of exceptional importance in these situations and both the lender and the borrower try to reach an agreement over the loan application fast.
This kind of loan is offered only by some financial companies; usually, it is the case of banks and payday loans institutions which allow customers the opportunity to get such personal loans.
The best information about this type of financial products can be found at www.unitedfinances.com at any time. Here, financial specialists are able to provide customers with all the information and all the facts necessary to successfully apply and obtain an emergency loan. Apply for Emergency Cash Immediately!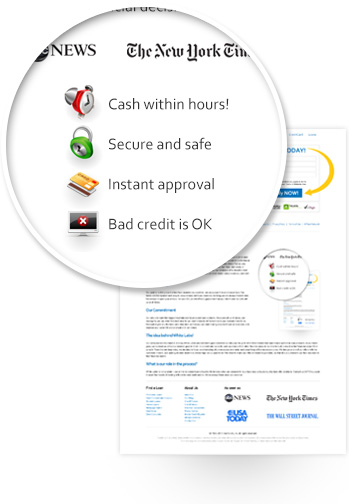 © 2013 UnitedFinances.com, Inc. All rights reserved.
UnitedFinances.com is a free comparison service empowering consumers to make better financial decisions. Our services are completely free of charge to our customers. However, this site may be compensated when a user clicks an "apply" or "apply now" button, or other links on the website.