Apply for Cash Advance Online with our Secure and Confidential Application!
Similar to the notion of payday loans, cash advance is a great concept incorporating a number of features ideal for people who need money fast, either as a one-time opportunity, or on a regular basis. In an economy of continuous change, where most financial factors are substituted by new opportunities, this type of loans is both appealing and much needed. It seems reasonable and logical to cover one's needs when they emerge than wait for the financial situation to improve. This has prompted many people to take out cash advances in order to find the right balance between comfort and their financial possibilities.
Structurally uncomplicated and easily accessible, cash advance loans may be considered the simplest way to get to a small amount of money fast and without any hassle whatsoever. At www.unitedfinances.com, we specialize in providing our clients with all the information and support necessary to speed up the process of obtaining funds from diverse financial companies and institutions on short notice. Among them, these are the most important:
Payday loan business providers – they are specialized in offering 500 dollar loans to borrowers based on an ID card and often without any further documentation or questions whatsoever.
Credit card service suppliers – clients who have a credit card can withdraw money directly from an ATM within certain limits previously stipulated by the credit card supplier or bank. This limit may be negotiable on some occasions (mainly based on an increase in the fixed income).
Banks – if a bank has a particularly strong history with a client, they may craft a personalized plan, which may allow the borrower to withdraw money from an ATM with no prior notification of the bank. Alternatively, most banks allow access to desired cash advance loans by means of a pre-approved credit card overdraft. Actually, the concept of overdraft often comes into the attention of financial analysts when considering cash advances for all types of customers.
Credit unions and specialized credit businesses – their offers are similar to those described above. The only significant difference you will notice in this case is the value of the APR.
More often than not, this type of financial solutions are better than other types of loans if the amount of money you need is not a large one and if you require the money as soon as possible. There will be a minor difference in the value of the APR (when compared to home loans, for instance), but this difference has no significant impact on the total amount you will have to give back due to small loan amount.
There are two reasons behind this situation: first of all, a slightly larger percentage of a small sum is often less important than a small percentage of a large sum; secondly, cash advances entice very few fees, keeping additional expenses as low as possible, whatever your potential financial power may be.
Cash advance availability
These loans can be:
Based on previous fixed income or similar documentation – which means that proof of income may be required, although there are cases when it is not.
Awarded as regular payday loan with no credit check or additional requirements – in which case you will definitely need a valid ID card to access the money. Further documentation may be required depending on loan amount and other factors.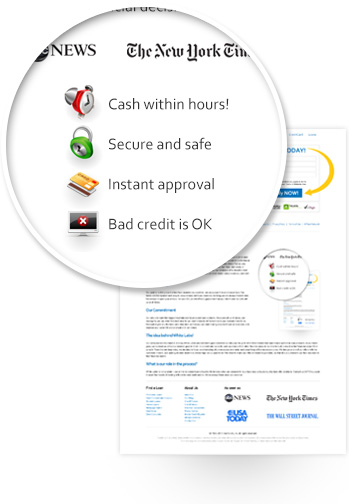 © 2013 UnitedFinances.com, Inc. All rights reserved.
UnitedFinances.com is a free comparison service empowering consumers to make better financial decisions. Our services are completely free of charge to our customers. However, this site may be compensated when a user clicks an "apply" or "apply now" button, or other links on the website.