Apply for Same Day Loans with our Secure and Confidential Application!
Financial institutions acknowledge that unique situations require adjusted approaches and allow customers to benefit from same day loans every single time a situation that requires extra financial resources occurs. As our specialists reveal at www.unitedfinances.com, there are various lenders who try to accommodate customers in need loans on the same day by specifically adapting their tactics to the needs of their clients:
Banks – in special situations, banks are able to allow people to access same day loans; individuals must have a good credit history and good relations with the bank. In the caseof the the credit being poor, the applicant may be allowed to access the credit, but will have to accept a higher APR numbers and a lower line of credit limit. These conditions may vary from one bank to another and from one loan to another.
For little amounts, banks may allow individuals to use their debit cards over the limit; people may use extra funds beside the ones they already possess due to the fact the bank entrusts them to pay the loan back. Using such loans is usually limited to small amounts and may carry additional fees consumer must pay when taking advantage of this opportunity.
Payday loans businesses – these businesses allow people to access instant loans based only on the proof of income they need to bring in support of their application for same day loans. These financial companies require the only the bare minimum of documents and, if consumers apply for same day loans with such a provider, people may avoid a credit check. Most of the times, regardless the credit score, customers are able to get the loan on the very same day.
Peer-to-peer lenders – on certain occasions, especially for large reasonable amounts of money, people can try borrow money from their relatives, close friends or other people who are interested in lending money. There are many specialized websites where individuals offer same day loans and those interested can access them as they choose. Consumers can be ensured that their credit score will not be checked and that they may need to bring no other documents but their own ID in support of their request for a loan. However, the safety of such transactions is implicitly questionable.
Credit unions and other financial institutions may allow to give same day loans in certain contexts. Previous business relations with these companies are a plus, as it does count in favor of a positive decision towards the application for same day loans.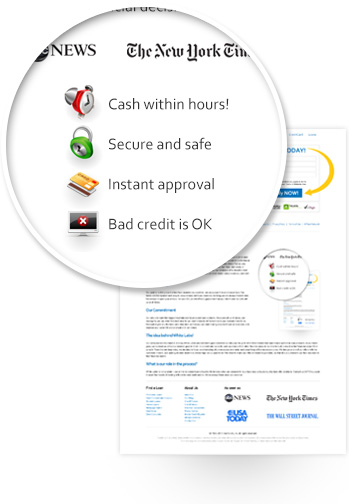 © 2013 UnitedFinances.com, Inc. All rights reserved.
UnitedFinances.com is a free comparison service empowering consumers to make better financial decisions. Our services are completely free of charge to our customers. However, this site may be compensated when a user clicks an "apply" or "apply now" button, or other links on the website.