How to Get Loans with our Secure and Confidential Application!
This article offers a general view on means, procedures, concepts, and steps you need to comprehend if you want to learn how to get loans with the smallest amount of time spent completing your application. Also, knowing what you should be on the lookout for allows you to make better decisions and get good interest rates. For more information, go to www.unitedfinances.com.
Do I need a loan?
This step is fairly simple: calculate your budget and check to see if your personal finances are enough to cover your expenses. When budgeting, keep things separate: your income on one side, your expenses on the other. After you get your figures, try to calculate your budget for one month, three months, and one year, respectively. If in any of the three cases your expenses exceed your income, you probably need a loan.
What kind of loan do I need?
Search online for personal loans and determine which aspect is most important for you: the duration of the loan, the type of the loan, any additional papers needed for the loans, etc. You can choose from the following financial products:
Cash advance;

Small personal loans;

Payday loans;

Auto loans;

Mortgage loans;

Short term loans.
Where and how to get loans fast?
Identify the best lender to do business with; you should take into account a number of criteria such as interest rates, additional fees, terms and conditions, approval decision aspects, anticipated time for approval, online vs. local offers. Websites may have significantly better offers than local offices, especially for small fast personal loans. Whenever you are considering getting extra funds, the online lending environment is most likely to be your best shot.
What do I need to do next?
Read the terms and conditions given to you by your lender of preference.

Provide the lender with all the documents you are asked for.

Accept the interest rate and the fees, the amount available upon approval, and the relationship of such data with your credit history.

Ask the financial officer in charge of your application form about any unclear statements you may come across when reading the documentation.

Calculate final extra charges applicable at the end of the loan (that is, the amount of money it costs for you to take the loan). This will help with early budgeting and teach you how to get loans in the future should you ever need them again.

Apply for the loan: fill in the form and submit it; if you have to do this electronically, double check all the fields upon submission. Try to be as thorough as you can – the more information you provide, the easier it is for any lender to make a decision.

Wait for approval response or inquire about approval with the lender if you're in a real hurry.

If your application not approved, you can try requesting a loan from a different lender. Improving your credit score first (if this has caused the refusal) may also be a good idea – this can be done by taking a few small loans and paying them back on time.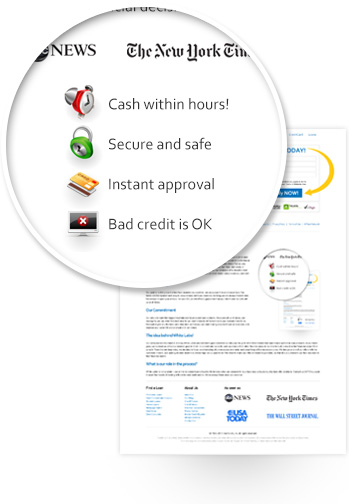 © 2013 UnitedFinances.com, Inc. All rights reserved.
UnitedFinances.com is a free comparison service empowering consumers to make better financial decisions. Our services are completely free of charge to our customers. However, this site may be compensated when a user clicks an "apply" or "apply now" button, or other links on the website.