Apply for Online Loans for Bad Credit with our Secure and Confidential Application!
Due to the fact that financial online platforms are still considered innovative by a large percentage of the population, lenders offering personal loans online have dedicated time and effort to improve their safety procedures in order to increase the general credibility of their services. This also holds true for online loans for bad credit and for any other type of loan involving (but not limited to) communication over the web.
Protection offered by lenders to borrowers who apply online
Apart from the traditional financial principles which have been adjusted to match today's online reality (such as application forms, means of dialogue, means of informing the clients about changes in the Terms and Conditions section), online lenders have developed new standards of service. They refer mostly to easy and safe data transfer - all the information customers provide is safe and no third party can access this data (unless specified otherwise in the Privacy Policy which generally varies from lender to lender).
In addition, money transfer is done electronically and is 100% security protected. It is actually safer than the traditional money transfer - in other words, borrowers withstand no responsibility for the proper transfer of the funds into their bank accounts. Finally, lender websites feature optimized protection against viruses or any other illegal or unorthodox way to collect, steal or duplicate information. To achieve this, special protocols have been issued. Some of them may require the borrower to enter an additional password or even to use a second token.
Online loans for bad credit: how to get a quote
Research online for specific websites and offers by narrowing your searches to the bad-credit category. Alternatively, you can focus on online loans that don't imply credit check or credit history analysis. At www.unitedfinances.com, we can easily assist you in finding and successfully applying for such online loans.
Carefully read the terms and conditions, and all associated privacy notes for the loan you are interested in. Always read your entire loan contract carefully.
Find the application form and fill in your personal data: name, address, amount to be borrowed, etc. Double check the information and contact us if there's anything you don't understand in the process.
Get a quote by clicking the button at the end of the application form - it's as simple as that.
Further details about online loan quotes
They provide up-to-date information in real time: you won't be getting access to outdated offers or anything of the sort.
They are usually issued instantly: quotes for personal loans are calculated in function of a few pre-determined variables. So, at this point, you'll be most likely given a quote by an automated system telling you the amount you qualify for according to the data you've entered.
There are no fees for getting a quote or finding out more about online loans for bad credit.
You have no obligations whatsoever: you don't have to stick to a certain company only because you've inquired about their offers.
Along with quotes, lenders may choose to provide additional sensitive information about the loan, which may be particularly important to you. Reading this information about personal loans is your responsibility.
The number of quotes you can get online at no charge is not limited in any way.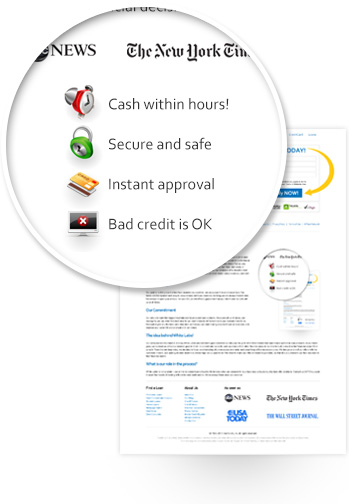 © 2013 UnitedFinances.com, Inc. All rights reserved.
UnitedFinances.com is a free comparison service empowering consumers to make better financial decisions. Our services are completely free of charge to our customers. However, this site may be compensated when a user clicks an "apply" or "apply now" button, or other links on the website.