Apply for Pay Advance Loans Online with our Secure and Confidential Application!
What is a Pay Advance Loan?
Pay advance loans are loans that people get in advance of their paycheck in order to take care of an unexpected expense that has come up, or a one-time offer that is just too good to be missed. With this type of loan, you can expect to get somewhere between one hundred to two and a half thousand dollars which you have to give back on your next payday (or any other date listed in the loan agreement).
What can you use this type of Personal Loans for?
First of all, this is not the type of loan that you would want to get in order to make a major purchase (like a house or any type of property). Instead, this type of loan is designed to provide assistance for people that find themselves in financial trouble due to an unexpected expense, like an overdue bill or unexpected equipment replacement.
Someone might decide to get pay advance loans if they get a medical bill towards the end of the month that they were not expecting. They find that they are unable to pay the bill because they have no more money at that particular moment in time, but they need to be able to get the bill paid before they get their next pay check. If they don't, they may not be able to avoid getting slammed with late fees on the bill. These types of personal loans can really help out in this type of situations, especially if you're faced with expenses you could not foresee.
Another Great Example
This kind of loan would be perfect for someone that has problems with their car at the end of the month. They need to get the vehicle fixed, so that they can get back and forth to work. Unfortunately, it is the end of the month and they just plain don't have that kind of money. By using a postdated check, the person could get the money that they desperately need ahead of the time that they would be able to get their pay check and make the payment on their own. This way, they can carry on living the way they are used to without having to make any unnecessary sacrifices before they next paycheck arrives.
What We Can Do For You
This is the sort of thing that advance personal loans are designed for. Pay advance loans from us are made to be easy to get and free of hassle for you, so complete our quick no-obligation application form and find out how we can help you.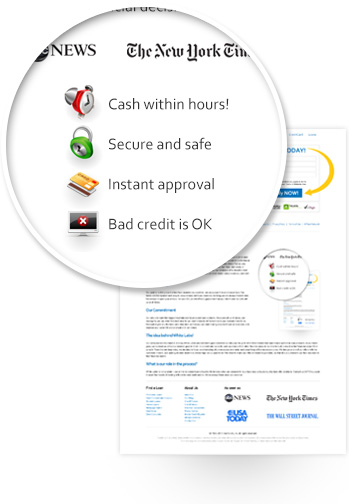 © 2013 UnitedFinances.com, Inc. All rights reserved.
UnitedFinances.com is a free comparison service empowering consumers to make better financial decisions. Our services are completely free of charge to our customers. However, this site may be compensated when a user clicks an "apply" or "apply now" button, or other links on the website.