Apply for Personal Online Loans with our Secure and Confidential Application!
Financial emergencies are part and parcel of life regardless of how efficiently you manage your finances. The sudden hospitalization of a loved one or an unpaid utility bill that just has to be taken care of before your payday are just some of these urgent situations that may only be solved by a quick infusion of cash. Thankfully, there is a quick and easy method to get one and that is via personal online loans.
What exactly is this financial product?
This type of financial product is quite similar to traditional online loans with monthly payments, although with a basic difference: availing personal online loans is very convenient as the entire process is conducted via the web.
What are the requirements for applying?
Lenders have varying requirements although the items below are most commonly required by borrowers:
Proof of one's identity – Providers must confirm that you are of legal age and a registered citizen of the United States. Identity theft is rampant especially on the web and lenders need to ensure that they will be sending the money to the right person, and that they will be paid in the end by the right individual as well. In most cases, your driver's license or your military ID will suffice to verify your age, identity and citizenship.
Proof of employment – This will ensure your capacity to repay the loan. In most cases, lenders will require that a borrower remains in the same employment for at least six months. However, there are personal online loans providers that approve applicants who have only been with their employer for three months.
Bank account – Generally, providers of personal loans will require a checking account that's in good standing, meaning it has a positive balance and is at least three months old. The account will facilitate quick sending out of money once the application is approved. The lender will periodically debit a specific amount from the checking account which makes repayments convenient for both parties.
How do I choose the right lender?
Selecting a provider can be easy if you keep in mind these qualifications during your search.
Legal accreditation – To make sure that the lenders you'll be dealing with are a legitimate business entity, and that they uphold the highest business standards when it comes to lending, make sure they are listed in and have been granted a stellar rating by the Better Business Bureau or BBB.
Competitive interest rates – As you probably already know, interest rates on personal loans vary across lenders. When trying to get loans that you know you will be able to repay, make sure to compare the interest rates thoroughly. Consider utilizing online loan calculators as doing so will help you properly determine each provider's interest rates.
With so many providers promoting their financial products online, it can be difficult to find the lender that's right for your needs. Fortunately, you can always take advantage of third party loan matching services. These institutions have a vast network of legitimate providers and can easily match you to a lender forwarding the most suitable conditions for your needs.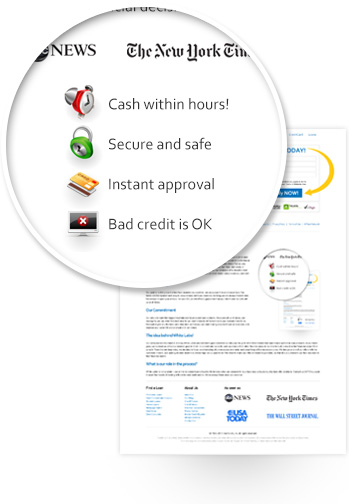 © 2013 UnitedFinances.com, Inc. All rights reserved.
UnitedFinances.com is a free comparison service empowering consumers to make better financial decisions. Our services are completely free of charge to our customers. However, this site may be compensated when a user clicks an "apply" or "apply now" button, or other links on the website.