Apply for Private Loans Online with our Secure and Confidential Application!
There are numerous reasons behind consumers' need for personal loans. As a result, financial institutions on the market have managed to adapt and to provide enough financial products as to fit the existing demand. Yet, based on the reasoning presented by each borrower, the most common private loans fall into a more limited number of categories than one would probably imagine:
To cover daily life expenses, purchase a household or home equipment – people may run short on money at times and most of the money lenders provide consumers with loans fit to accommodate needs determined by the daily life.
To cope with unexpected situations – individuals may experience an emergency situation any time. Thus, they may need extra money to properly handle the situation properly. These loans vary from one lender to another in interest rates, conditions of approval, documentation required and the additional fees. Consumers looking for loans are recommended to check our webiste - www.unitedfinances.com for the most intuitive options they have access to.
To purchase a car – car loans are among the most common categories of loans required by individuals. Usually, such loans are treated differently by each lender. As a rule, the money is sent directly into seller's account and the car purchased constitutes an asset or collateral. The interest rate for personal loans varies depending directly on the credit score and previous business history the borrower may have with the lender. Such factors impact the expected results. Thus, it is possible for consumers to put themselves in a favorable position by approaching the situation sensibly.
To invest in real estate – private loans are often destined for house purchases. Consumers pay attention to the interest rates featured by mortgage loans as they impact their future financial situation by large margins. A very small change in the APR percentage may save money via lower payments. Also, many clients regard additional fees of these personal loans with great care - as many statistics and specialists reveal, additional fees that come with many private loans consist of large amounts of money when they are all put together. Therefore, ech personal loan should be assessed with great care.
Loans needed for a very short period of time are offered mostly by payday loans businesses and, at times, by other financial companies or institutions. People in need of fast cash may access extra funds in no time and with no hassle at all. When they borrow money from such companies, consumers need to expect high interest rates and additional fees including repayment fees.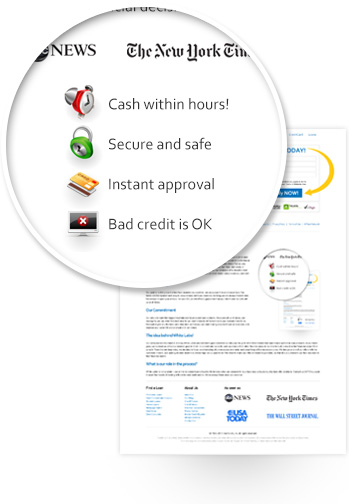 © 2013 UnitedFinances.com, Inc. All rights reserved.
UnitedFinances.com is a free comparison service empowering consumers to make better financial decisions. Our services are completely free of charge to our customers. However, this site may be compensated when a user clicks an "apply" or "apply now" button, or other links on the website.