Apply from Private Money Lenders with our Secure and Confidential Application!
With the American economy as it is and banks being unwilling to lend on what they term risky projects, it's no wonder that you're looking for loans from private money lenders. This type of loan can be the answer to your financial problems or it can provide you with the capital you need to make your future brighter.
How you may ask…
Well consider the following:
You may want to start a small business that you believe has the potential to thrive in your geographical location. You try a few traditional banks but they turn you down. Private money lenders won't often turn you down though, and especially if you have collateral to secure your loan.

Maybe you want to buy property, renovate it and then sell it on for a profit but you need personal loans to help you get started. Again, because of the risk most banks will say no to this type of enterprise but online money lenders are much more likely to agree a short term loan.
It may be though that you simply need a loan to get you out of debt, or through an unexpected cash-flow problem. You may not have any inclination to start a business but this doesn't mean that online money lenders can't still help. Short term personal loans can be the ideal solution to get you back on the financial path you want to be on.
But how do you choose a suitable money lender from the vast array available on the internet?
1. Check their approval rate. It should say somewhere on their website what percentage of loan applications they approve. The higher the percentage the more likely you are to be approved.
2. If you know you have a poor credit score, look to see if a chosen money lender checks your credit history. Some lenders do, but others ask for collateral to use as security instead.
Find out exactly what happens if for some reason you fail to pay back the amount borrowed plus interest on the specified date. A few private money lenders fail to offer any flexibility in terms of repayment whereas others, including us here at www.unitedfinances.com can provide alternative arrangements for customers that struggle to repay on time, providing you make contact before the deadline for repayment passes.
4. Compare the important features of each lender's personal loans with those of other lenders. For example, look at interest rates, repayment terms, penalties for late or non-payment, maximum lending amounts for first-time borrowers and whether there are any stipulations regarding what you can and can't use the money for.
Choosing wisely can make borrowing from a private lender the best thing you ever do, and especially where a new business venture is concerned. Research your options and keep the above points in mind and you should find the perfect online money lender for you.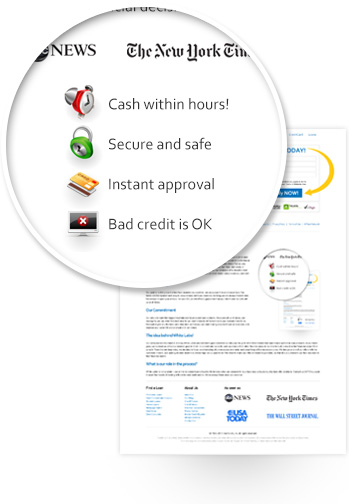 © 2013 UnitedFinances.com, Inc. All rights reserved.
UnitedFinances.com is a free comparison service empowering consumers to make better financial decisions. Our services are completely free of charge to our customers. However, this site may be compensated when a user clicks an "apply" or "apply now" button, or other links on the website.