Safe Internet Loans
Internet loans are the latest in an array of financial products and services that are now being offered online. Though quite popular, this financing system is relatively new and not many are aware of the numerous benefits these types of personal loans offer. So if you've ever wondered how these financial products and services work and how to get one, read on.
1. Always seek for accreditation.
Accreditation awarded by reputable and appropriate institutions is a crucial lender qualification. With accreditation, you can be guaranteed that the provider adheres to strict lending processes and practices such as closely guarding the client's biographic and financial information and making sure to offer only reasonable interest rates. To make sure that you will be dealing with a personal loans provider that upholds safe and reasonable lending practices, check if it has an accreditation.
2. Go with recommended providers.
Trusted friends and family are an ideal source of information about which lenders are favorable to do business with and which are not. Bear in mind that the most powerful marketing is still word-of-mouth. So if former clients are the ones spreading the good word about a lender, it means that said borrowers had a positive experience with the company. So when searching for Internet loans providers, make sure you ask for recommendations from trusted family and friends. When you do so, you will be able to ask them about their firsthand experience with particular lenders. You will be able to ask about essential matters such as which providers have the most reasonable rates, and which ones treat their clients nicely as well. Once you make a list of these lenders, perform your due diligence and educate yourself on each provider's lending system. This way, you get to confirm for yourself essential factors such as the current interest rates being offered and the new requirements for application, if there are any.
3. Opt to seek assistance of loan matching services.
Not everyone is tech-savvy enough to be able to surf the web and search for the best Internet loans providers online. You do not have to fret at all if such is the case. You can still have access to safe personal loans by obtaining the expertise of loan matching services. Just like the name implies, these businesses will do the tedious and time consuming task of searching for lenders for you. Loan matching services acknowledge that it is their reputation that is always at risk when referring a borrower to a lender. This is why loan matching services will always make sure to only include legitimate providers on their respective networks as they want to ensure that their business reputations remain untarnished throughout. So when you take advantage of their assistance and expertise, you can rest easy knowing that you will only be directed to providers that are legitimate and duly accredited.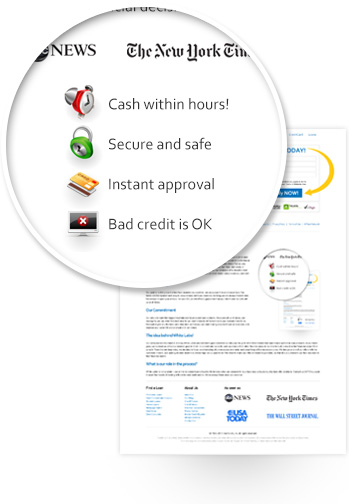 © 2013 UnitedFinances.com, Inc. All rights reserved.
UnitedFinances.com is a free comparison service empowering consumers to make better financial decisions. Our services are completely free of charge to our customers. However, this site may be compensated when a user clicks an "apply" or "apply now" button, or other links on the website.