Apply for Same Day Personal Loans Online with our Secure and Confidential Application!
Have you ever been faced with a demand for payment that just won't wait until your next payday?
Maybe your car broke down somewhere inconvenient and you had to get it towed at a premium cost? Or maybe a pipe burst in your home that required the services of a professional plumber? Or one of your pets became ill and required expensive veterinary attention?
You may be lucky and be able to say that none of the above has affected you so far, but if you do find yourself short of money one day, you may need to look into same day personal loans.
Same day personal loans are exactly what they say they are – personal loans that advance the money you borrow on the same day you make the application. Obviously you're not going to get this type of loan from a traditional bank, but we work with a panel of respectable lenders who do in fact approve personal loans just hours after the application is made.
You don't need:
A perfect credit history or even a good credit history.

Any form of collateral to secure the loan (so it is not mandatory for you to be a home owner).

To be free of all other forms of credit. You can have other personal loans or credit cards in use and still get approval for same day loans.

Reams of paperwork showing your detailed income and all of your monthly outgoings, going years and years back.
You do need:
A regular income and a job that you have held continuously for at least 90 days.

Proof that you are aged 18 years or over (21 in some States)

Details of where and how you can be contacted i.e. a permanent address, a telephone number etc.

A suitable bank account in your own name. The bank account you use needs to be able to receive money and send money so that you can pay your loan back easily when the time comes.
Personal loans of this type are designed to be used for unexpected expenses that you can't immediately pay from your own savings, and in most cases the loan is repaid on your next payday. Some lenders do offer larger loans that have repayment terms of 3-6 months so even the biggest unexpected bills can be settled in this way.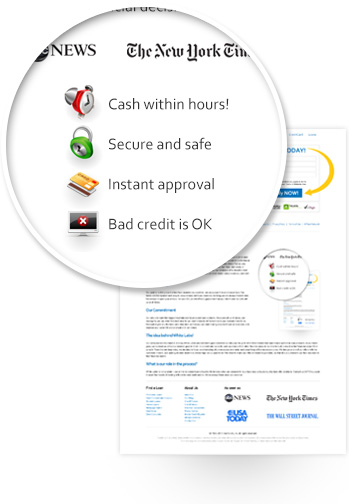 © 2013 UnitedFinances.com, Inc. All rights reserved.
UnitedFinances.com is a free comparison service empowering consumers to make better financial decisions. Our services are completely free of charge to our customers. However, this site may be compensated when a user clicks an "apply" or "apply now" button, or other links on the website.