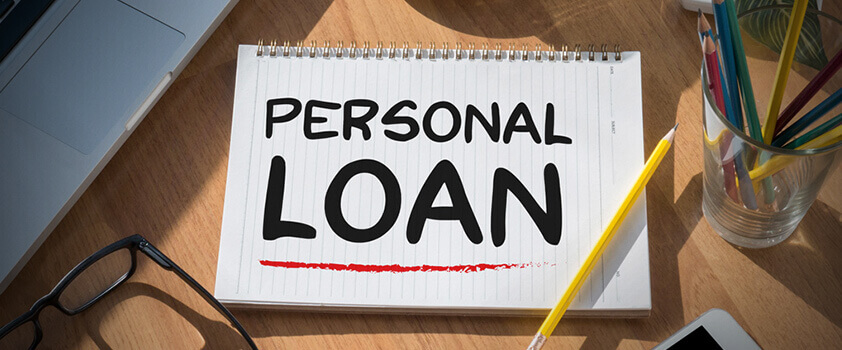 Personal loan is considered as one the most convenient way to meet any immediate financial emergency. Whether you have any medical emergency at your home, need to fund your child's higher education, or even wish to clear all the outstanding debts, personal loan is the immediate choice to get funds without any hassle. These loans are easy to access as opposed to home loans or car loans because banks do not require any security for personal loans. 
The interest rates applied to personal loans are comparatively higher than any car loans or home loans because banks consider personal loans as unsecured and undertake higher risk in providing personal loans. Before applying for the loan, it is essential to understand your financial needs and terms of the loan. Take some time to calculate the EMI amount that you easily afford during your tenure. 
To help you with this, we are here with some important points to consider before you approach your bank and apply for a personal loan.
1.Check Your Credit Card Score
Whenever you apply for a personal loan, the banker goes through your credit report to see the number of applications you have sent to different banks. If your credit report is full of different applications, your credit score falls. So, to avoid any rejection from the bank, it is advisable to check your credit report before you think that you need 1000 dollars now and apply for a personal loan.
2.Compare the Interest Rates 
There are several platforms available to compare interest rates offered by different banks. Comparing the interest rate helps you ensure that you receive the lowest interest rate. Also, enables you to select the best interest type which makes the repayment of EMI easier.
3. Calculate all the Costs
When applying for a loan, there can be numerous loan processing charges like prepayment fee, processing fee, late payment fee etc. Consider all the charges to get a clear estimation of the total expenditure. Calculating these types of charges along with EMI help you decide the most affordable loan for yourself.
4. Consider your financial needs for picking the appropriate loan
List up all the requirements and then prioritize them to finance with a loan. There can be numerous financial needs like wedding, medical emergency, buying a vehicle or to plan a holiday. Decide the loan amount based on the expenses associated with your requirements. Consider flexi personal loans if your monetary needs are unpredictable. 
5. Evaluation of your ability for the repayment of the loan
Before borrowing, one should always be ready with the preparation of  repayment. You should have the ability to pay the EMIs using your income. For this, you can use several calculators to estimate the monthly EMIs in advance to plan your payments accordingly.
6. Consequences in case of failure in repayment of Loan 
There might be some serious implications if you fail to repay the loan amount. Make sure you pay all the EMIs on time as delayed or deferred payments will not just make you an unreliable customer for the lender but you will also face penalties which will automatically increase the loan amount.
7. Avoid gimmicks
You may come across some artificially low interest rates by some lenders. These types of gimmicky schemes often turn out to be more expensive than others. Generally these are based upon floating interest rates which makes the interest rates appear low in the beginning but with time it increases substantially.
8. Read the complete loan agreement
It is essential to read all the details of the loan agreement to avoid any unpleasant surprises later on. Understand all the charges, fees and penalties to get aware of the terms & conditions of your loan.
Personal loan might be the last option to meet your financial needs but they do have some drawbacks. What if you plan your money in advance and be ready with your funds for any type of emergency. There are several options available in the market to save your money to get good returns over a period of time. If savings are not enough, you can go for various investment plans and achieve your financial goals. If you need financial stability in your life, investment is a good option to get you there. There are several benefits of investments which makes you get started with it. 
Benefits of Investments:
Quality investment is one of the best ways to achieve your long term financial goals.
1. Helps you build wealth-Channelize a part of your monthly savings into investments based on your financial needs. You should be clear about your financial goal whether you need funds for your trip,buy assets, or to plan for your retirement. To start with this, you simply need to set an objective of investments and then accordingly select the tenure and the perfect investment tool for it. 
2. Beat the Inflation- The average rate of inflation is around 3% and if you invest money, you will earn a 7% average rate of return. This way you will stay ahead of inflation and can increase the money value.
3. Retirement Funds- The power of compounding works best if you want enough funds after the retirement period. Compounding is when your interest starts earning interest. This way you can earn a good amount for your retirement.
4. Save on your Taxes- There are several investment options available in the market that can help you save on your taxes.
Taking a bad credit personal loans guaranteed approval direct lenders to meet your financial needs has its own advantages and disadvantages. If you are satisfied with the terms & conditions of loan agreement, check all the above mentioned points to consider before applying. And, if you want to grow your funds for a safer future, you can go for an investment option. Whether you have a financial goal of 10 years or more, quality investment helps you reach your goal faster. Go for the best suited investment plan according to your needs.